Hello & Welcome!
I am so excited for you to join me on this hands-on enchanting Montessori learning journey! I know your goal is to connect with your child and add a sparkle of enchantment to your learning atmosphere. I am so honored and humbled to guide you along the way to ensure that your child grows to his/her fullest potentials!
WELCOME
Let's Uncover Child's Immense Potential
Let's together ignite intrinsic motivation, leverage natural interest, and nurture curiosity and the love of learning!
This is a
NEW platform
to which I am migrating the content to. It is a manual process, so currently, I am moving seasonal and thematic unit studies.
BASICs, MATH & LANGUAGE courses, have some activities ~ for the rest, please refer to the
MAIN PORTAL
.
Montessori MADE-EASY Membership
governs your access to courses here. As long as your subscription is ACTIVE (manage under your
ACCOUNT
) you will have access to courses HERE that are READY.
You do not pay anything extra for courses HERE, but they become available to you at different times throughout the year.
Courses
You have access to BASICs, Language, Math and Seasonal Course for now.
\Learnworlds\Codeneurons\Pages\ZoneRenderers\CourseCards
"What the hand does, the mind remembers," thus little hands are absorbing by dotting, imprinting, connecting, clipping, matching, and manipulating!

Experiential learning or "learning by doing" is an essential constituent of the Montessori teaching method. Together, let's inspires children to stimulate the senses and engage in ACTIVE learning to support early development.
♡ Creating this For you, with You, With Love ♡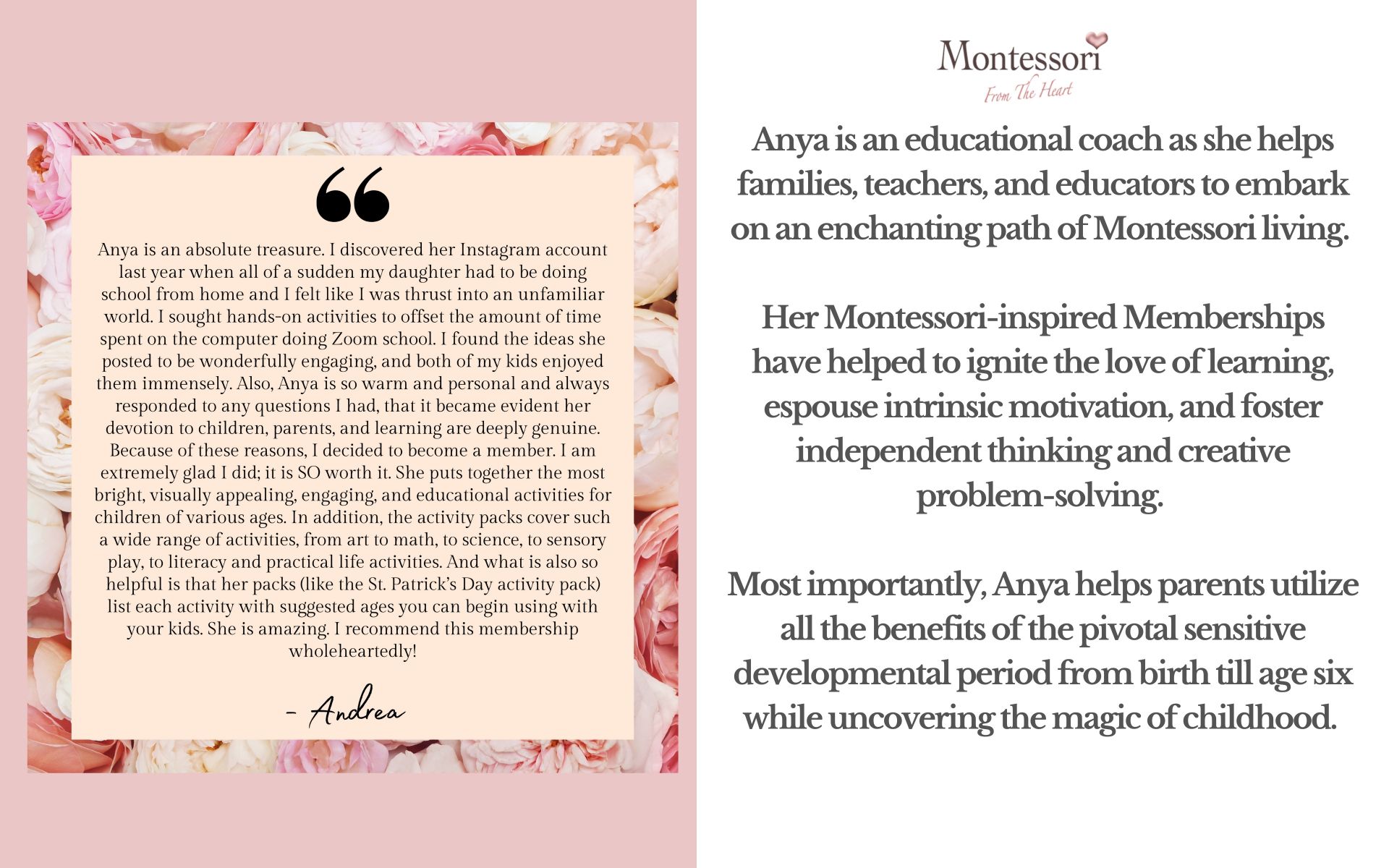 Montessori You Can Do
"Our care of the child should be governed, not by the desire to make him/her learn things, but by the endeavor always to keep burning within him that light which is called intelligence."
~ Dr. Montessori.
Children
naturally
want to learn, just like all living things naturally adapt and evolve! Our job as parents and educators is to
ignite
or
awake
the
passion for learning
! And let me tell you, theories and workbooks do
not
kindle the fire!
Curiosity
and
novelty
do
that! As children are innately curious creatures!
So, we need to learn to kindle the thirst for knowledge, and spark the passion for wonder by capturing child's
Imagination
,
Inclinations
and
Interests
!
THE 3 I I Is.
AIMS of Homeschooling The Montessori Way
To Ignite The Love of Learning
By preparing a sufficiently stimulating, aesthetically inviting, and orderly environment, we help cultivate the joy of learning.
To Develop the Whole Child
By following a child's developmental needs, inclinations, interests, and progress, we can help develop the whole child intellectually, socially, emotionally, and physically.
To Empower the Child

By espousing independent thinking and creative problem-solving through experimental learning, we empower a child to be responsible, respectful, confident, and intellectually curious.
Learning is a natural process!
Welcome to eMontessori! Let's turn learning into a natural, enjoyable, and enchanting process!
Frequently asked questions
Do I need to purchase a lot of Montessori materials?
Not a lot. I suggest some essential Montessori materials based on your budget. See the suggested Material List under the BASICs course.

I aim to offer DIY alternatives, (when feasible) should you decide to make them.

I also design and offer printable materials to promote active hands-on learning.
Do I need to homeschool 8 hours to utilize customized curriculum?
No. The beauty of homeschooling is that in one to three hours of one-on-one interaction, a child absorbs more than s/he would during a full eight-hour day at a conventional or even a Montessori school. I suggest one to three hours of work cycle, based on your family environment.
Do I need to dedicate an entire room to homeschool?
No. One low to the ground and long shelf would suffice. You can also adopt some of the existing shelvings in your home to homeschooling, for example, TV shelves are generally low to the ground and are at a child-view level.
Join the community

Be In The Know
Please enter your email so that I can create your account.
Helping families embrace Montessori
What Members Are Saying
What Our Members Have to Say
"Dear, Anya! Thank you so much for coming to our lives. You made such an impact! Is been a crazy year with ups and definitely downs, but beside just for Ari you had been there for me. Thank you for being such a kind , giving individual. You are truly an inspiration!"
CINDY S.
"I continue to be impressed with all that Anya has created with this membership. There are SO many amazing resources, in every topic imaginable! Adaptable to various ages, there is an abundance of ideas, activities, and explanations of concepts. I have learned so much myself! In addition, everything Anya has put together is so colorful and visually appealing, it makes things that much more engaging for children. Further, Anya is one of the most responsive and truly caring people on social media. ANY time I have had a question, need clarification, or help finding something, she responds quickly and thoroughly. Her warmth and care has been so consistent, ever since I first discovered her account on Instagram last year, right in the beginning of the pandemic quarantine time. She was a tremendous help to me while we had to do virtual school at home via Zoom, and her activities were and continue to be favorites with my children. She is also an inspiration to me overall as a woman, wife, and mother. Brava, and THANK YOU, Anya!"
Andrea U.
"I really cannot recommend Montessori from the heart with Anya enough to all parents. She has opened our lives to the world of Montessori and learning through play has never been more enjoyable. This membership has everything you will ever need on all subjects such as botany, science, culture, literacy, numeracy and many more. The lessons are brilliantly researched and easy to follow. No more scrolling on the internet anymore. Anya is very positive and you can tell from following her Instagram that she really loves what she does. I am delighted I found this membership and want everyone to know if anyone is looking to add fun, gentle, teachable moments into your child's life, it will be the best gift you can give your child."
Grainne O'D.
Created with