Montessori-Homeschool Personalized Curriculum:


🗓 Personalized private monthly homeschool curriculum plan.(Customized on a monthly basis according to the child's age, interests, skills, and progress.)

☎️ Monthly private one-on-one coaching Zoom calls

💰$499 One-time Sign-up Fee, then $199 / mo (Per Child). Bi-Monthly and yearly discounts available.
Sample Curriculum Plan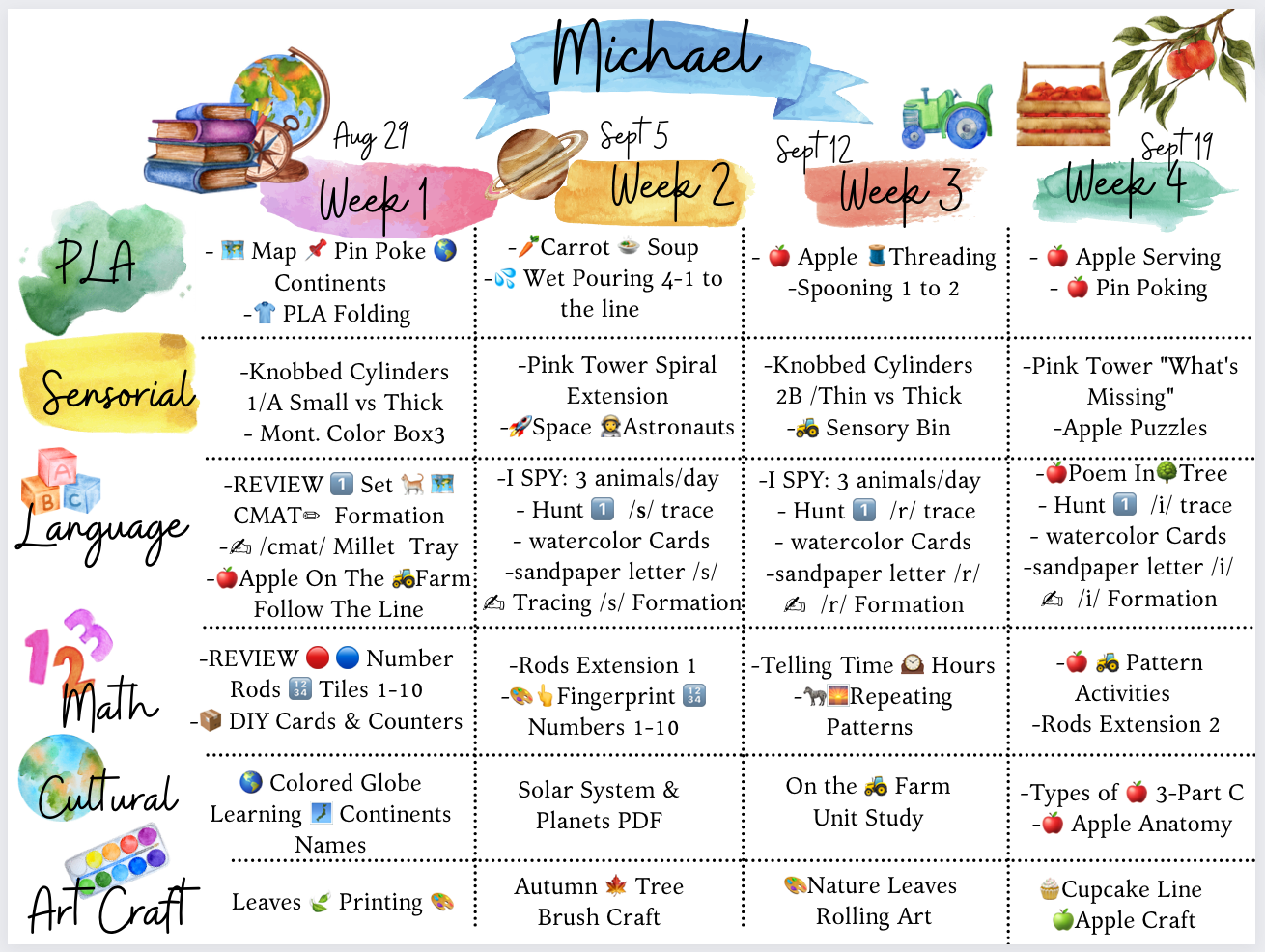 You do not believe
in a one-fits-all approach.
You do not want to
miss any of the developmentally crucial windows of opportunity.
You are exhausted
from swimming in the ocean of Pinterest while sinking in the depth of irrelevant information, unable to see the shore. You are done scrolling endlessly on social media, saving posts to folders you never open!
Let me help you 10X your Homeschooling
(and ❌ Not the To-Do-List!)


Let me do the groundwork for you and customize a curriculum plan to help your child grow to their fullest potential! Let's take the stress and wasted time away from your homeschooling life and bring you the joy of learning.


Please, do not rub your child of the little 🕰 time you have with them!
❌ No more scrambling to come up with lessons!

❌Say No to endlessly searching!


❌Say No to social media that depicts picture-perfect ideas you might never bring to life!


✅ Say Yes to the stress-free love of learning!
Helping families embrace Montessori
What Members Are Saying
Inside the CUSTOMIZED MONTHLY plan
5 Core Montessori Subjects
Practical Life Activities
(a) care of self such as food prep, dressing, washing,
(b) care of the environment, such as cleaning, gardening, care of pets, environmentalism,
(c) grace and courtesy, such as greetings, manners, social interactions
(d) control of movement, such as refining movements, walking the line, moving quietly.
Sensorial Works
Sensorial Activities focus on and allow the child to refine each of the senses. They include specifically designed materials that isolate just one quality. As such, sensorial activities refine fine motor skills, visual and auditory senses, and develop coordination and the ability to order and classify. In particular, sensorial activities focus on either sight (visual), touch (tactile), smell (olfactory), taste (gustatory), sound (auditory), and stereognostic (kinesthetic) senses.
Language Works
Language curriculum is based on phonemic awareness and children learn to read by following a phonetic approach. Children also work through specific hands-on tactile language materials such as sandpaper letters and the moveable alphabet. Steps towards literacy plan promotes early literacy while following a non-traditional approach to language development.
Mathematics
Many sensorial materials, such as a Pink Tower, Red Rods and sensory Tactile Boards are in fact a precursor to numeracy work. A child then transitions to number rods, sandpaper numbers, number boards, spindle box, number tiles, beads, and games. Each exercise builds upon another and the child gradually moves from concrete to abstract areas such as place value, addition, subtraction, multiplication, and fractions.
Cultural & Science
Some of the areas of study are:
(a) Geography (solar system, continents, landforms, earth layers)
(b) Zoology (classification, physiology of animals)
(c) Botany (ecology, classification, physiology of plants)
(d) History (clock, timelines, using a calendar)
(e) STEM & Science Experiments
Arts & Crafts
In a Montessori environment, although not a "core subject," arts and crafts provide children with a hands-on way to express creativity and develop fine motor skills, fostering a sense of independence and self-expression. Through self-guided exploration of various materials, children cultivate their imagination and build confidence, nurturing their cognitive and emotional growth.
What Our Members Have to Say
"Dear, Anya! Thank you so much for coming to our lives. You made such an impact! Is been a crazy year with ups and definitely downs, but beside just for Ari you had been there for me. Thank you for being such a kind , giving individual. You are truly an inspiration!"
CINDY S.
"I continue to be impressed with all that Anya has created with this membership. There are SO many amazing resources, in every topic imaginable! Adaptable to various ages, there is an abundance of ideas, activities, and explanations of concepts. I have learned so much myself! In addition, everything Anya has put together is so colorful and visually appealing, it makes things that much more engaging for children. Further, Anya is one of the most responsive and truly caring people on social media. ANY time I have had a question, need clarification, or help finding something, she responds quickly and thoroughly. Her warmth and care has been so consistent, ever since I first discovered her account on Instagram last year, right in the beginning of the pandemic quarantine time. She was a tremendous help to me while we had to do virtual school at home via Zoom, and her activities were and continue to be favorites with my children. She is also an inspiration to me overall as a woman, wife, and mother. Brava, and THANK YOU, Anya!"
Andrea U.
"I really cannot recommend Montessori from the heart with Anya enough to all parents. She has opened our lives to the world of Montessori and learning through play has never been more enjoyable. This membership has everything you will ever need on all subjects such as botany, science, culture, literacy, numeracy and many more. The lessons are brilliantly researched and easy to follow. No more scrolling on the internet anymore. Anya is very positive and you can tell from following her Instagram that she really loves what she does. I am delighted I found this membership and want everyone to know if anyone is looking to add fun, gentle, teachable moments into your child's life, it will be the best gift you can give your child."
Grainne O'D.
Let's Up-level your Child's Yearly Years

Montessori-Homeschool Personalized Curriculum Private Coaching
There are no refunds for sign-up fees nor monthly payments for which the plan was curated. However, you can cancel your subscription anytime to avoid any future monthly fees.
Customized curriculum plan

Bonus Learning Kits

Yearly
Create an App Icon
How to add an App Icon to your phone 📲 Home Screen.
For iPhone: tap the share button and scroll down to "Add to Home Screen."
For Android: tap the three vertical dots on the top right then tap "Add to Home Screen."
LEVERAGE CHILD's CURIOSITY FOR LEARNING & DEVELOP HEALTHY SYMBIOTIC ADULT-CHILD RELATIONSHIP
Here is what members are saying ...
"Educating the mind without educating the heart is not education at all!" - Aristotle.
Montessori is not a method, but rather a lifestyle.
Education is a life journey! Thank you for allowing me to help us all learn and grow together! Xo
Anya, The Founder
Created with