Welcome to e-School Montessori From The Heart ♡

If you want to change the world, start with a child.


Parents | Caregivers | Educators
Monthly Activities Calendar
Join Subscription
No more guessing!
Thinking & prepping is done for you,
so that you can do what you really love!
\Learnworlds\Codeneurons\Pages\ZoneRenderers\CourseCards
looking for EASY DOABLE PRE-PLANNED ACTIVITIES FOR EACH DAy OF THE WEEK?
Join Monthly Activity Plan Subscription
Calendar-date pinned activities delivered to you each month.
Receive a new themed plan for each month of the year.
Monthly plans open up on the 1st of each month.
No Sign Up Fee | Cancel Anytime
Save on Monthly
Plans Subscription

Save $50 when pay annually
GET A SNEAK PEEK INSIDE THE PLATFORM
Learning Made-Easy
Top Courses for Early Years Education
This is for You IF You Want
Reduce Screen Time | Grow Your Child's Potentials
✔️ You want to reduce screen time and strive for more engaging and educational activities with your child.

✔️You want to have a structure, materials, video tutorials, and aesthetically designed printables where all the research, preparation, and organizing are done for you so that you can spend time doing what you love.
Creating With you, for You, with Love ♡
Join the community! IT IS FREE!

Be In The Know
If you have not done it yet, join the community! Anyone can subscribe. Just fill in your email address above. It's easy to unsubscribe or change your preferences whenever you wish. Stop by and say Hello!
Next, let's ensure that my emails do not end up in your spam folder. You would need to mark them as "safe."
To ensure that my emails land in your inbox, please add me to your Contacts AND move my email from your Promotions folder (if it lands there) into your Primary folder (Gmail users).
Get to Know Anya
Anya, the founder of Montessori From The Heart, is an educational coach, a blogger, a digital creator, and an influencer. On Instagram, she built a community where she helps parents utilize the benefits of pivotal sensitive developmental periods from birth to age six. Anya holds the Juris Doctor Degree (J.D.); however, she found her true calling with early-years education and turned from an attorney at law to SAHM. She raised both of her children, The Montessori-Way, homeschooling full time until they started kindergarten at a Montessori school. Her passion is for creating and sharing hands-on educational materials with like-minded parents, educators, and brands while helping uncover the magic of childhood by leveraging the potential of the child's absorbent mind.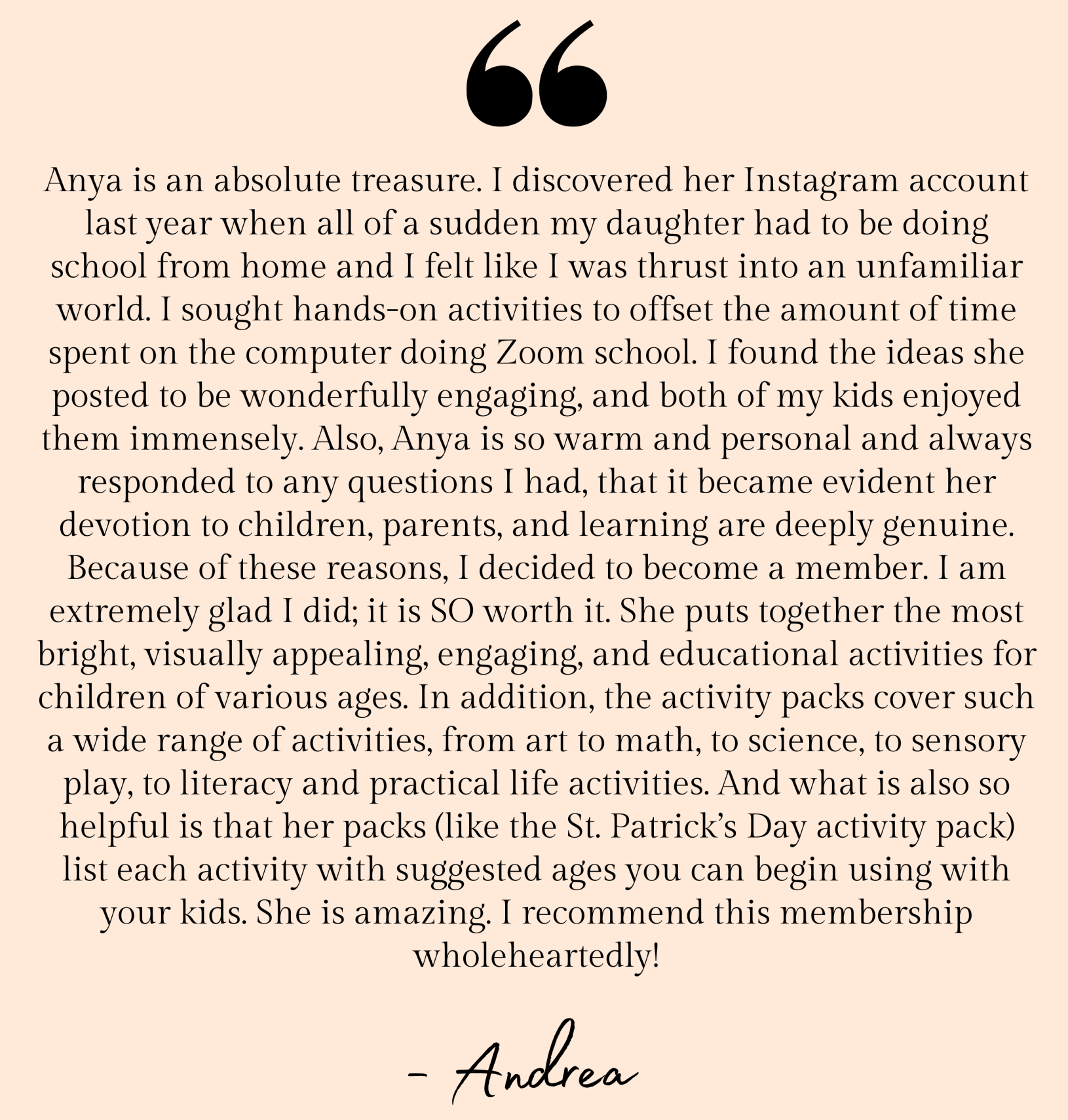 90% of 🧠 brain growth happens before kindergarten
"Children are creative geniuses!" confirms the study where Dr. Land and Dr. Jarman tested 1,600 children between the age of 4 and 5 years. The results were:

"98% of them scored at genius level."


98% was an astonishingly high number, so they started testing the same group of children as they grew up.


By grade school, only 30% of the children were considered creative geniuses.
By high school, it was only 12%.

They conducted the same test on a group of adults. Less than 2% of the adults tested in studies were creative geniuses.


Studies have shown that we are all born divergent creative thinkers. But something smothers our ingenuity and creativity as time ticks by ...
The reason is that from birth to age five, a child's brain develops more than at any other time in life, and at least one million new neural connections (synapses) are made every second,

... more than at any other time in life!

The brain is our command center and a newborn baby has all of the brain cells (neurons) they'll have for the rest of their life. But it's the connections between these cells that really make the brain work.

The early childhood years are crucial for making these connections and that is why Dr. Montessori described the period from birth till age six as an Absorbent Mind!

you want to SEIZE GOLDEN OPPORTUNITIES of the ABSORBENT MIND
Children till 6-7 years of age are endowed with the gift of the absorbent mind. They go though time-sensitive specifically predefined windows of sensitivity when they are particularly equipped to absorbing information spontaneously as if by magic and without conscious effort. So, let's leverage those windows of opportunities!
you realize social media's picture-perfect SET UPS are useless
You are tired of swimming in the vast ocean of social media without seeing the shore. You are done pinning and saving activities, which you never bring to life either due to lack of resources, knowledge, or relevancy. You want to free time to do what brings you & your family most joy!
you want to add a spark of enchantment to your homeschooling journey
You are a parent, a grandparent, a caregiver, or an educator of a toddler, preschooler or a kindergartener (ages 18 m - 7 yr), and you wish to stimulate hands-on experiential learning-by-doing. You realize that passive consumptive type of education is ineffective, and you wish to explore learning in a creative way.
What Our Members Have to Say
"I am so pleased with this membership. Not only is there a vast information and knowledge put together to let me start right away but Anya is making the membership truly special. Her dedication and joy to learning and Montessori as well as exceptional response time and customer service to any of my enquiries make this journey for my children and myself a wonderful and enjoyable experience."
Fiona S.
"I continue to be impressed with all that Anya has created with this membership. There are SO many amazing resources, in every topic imaginable! Adaptable to various ages, there is an abundance of ideas, activities, and explanations of concepts. I have learned so much myself! In addition, everything Anya has put together is so colorful and visually appealing, it makes things that much more engaging for children. Further, Anya is one of the most responsive and truly caring people on social media. ANY time I have had a question, need clarification, or help finding something, she responds quickly and thoroughly. Her warmth and care has been so consistent, ever since I first discovered her account on Instagram last year, right in the beginning of the pandemic quarantine time. She was a tremendous help to me while we had to do virtual school at home via Zoom, and her activities were and continue to be favorites with my children. She is also an inspiration to me overall as a woman, wife, and mother. Brava, and THANK YOU, Anya!"
Andrea U.
"I really cannot recommend Montessori from the heart with Anya enough to all parents. She has opened our lives to the world of Montessori and learning through play has never been more enjoyable. This membership has everything you will ever need on all subjects such as botany, science, culture, literacy, numeracy and many more. The lessons are brilliantly researched and easy to follow. No more scrolling on the internet anymore. Anya is very positive and you can tell from following her Instagram that she really loves what she does. I am delighted I found this membership and want everyone to know if anyone is looking to add fun, gentle, teachable moments into your child's life, it will be the best gift you can give your child."
Grainne O'D.
AIMS of Homeschooling
The Montessori Way
To Ignite The Love of Learning
By preparing a sufficiently stimulating, aesthetically inviting, and orderly environment, we help cultivate the joy of learning.
To Develop the Whole Child
By following a child's developmental needs, inclinations, interests, and progress, we can help develop the whole child intellectually, socially, emotionally, and physically.
To Empower the Child
By espousing independent thinking and creative problem-solving through experimental learning, we empower a child to be responsible, respectful, confident, and intellectually curious.
Who is Dr. Maria
Montessori
Montessori Celebrities Worth Mentioning:
Larry Page and Sergey Brin (Google founders)
Jeff Bezos (Amazon founder)
Julia Child (Celebrity chef & author)
George Clooney (Academy award-winning actor, director, producer, humanitarian, United nations messenger of peace)
Erik Erikson (the Danish-German-American psychologist and psychoanalyst known for his theory on human social development, coining the phrase "identity crisis." Erik found Montessori ideas so compelling that he studied them as an adult, acquiring a Montessori teaching certificate but never teaching in a classroom.)
Why and Who is Montessori
FREEBIE 🖨 click below to get your PDF
Frequently Asked Questions
Are courses set as a membership with recurring monthly fees?
FAQ 1: No, courses are not a recurring membership. You pay a one-time fee. There are no hidden costs or paying extra for new lessons or PDFs. New activities, lesson plans, and printables are added periodically. However, you can join Montessori Made-Easy Membership, which gives you access to most courses here, some of which become available to you right away and to some you get access through out the year in a dripping bases ~ you can check it out
HERE
.
How long do I have access to eMontessori From The Heart School courses?
FAQ 2: Lifetime access is available with full payment and is available for as long as eMontessori From The Heart School courses are online.
When can I access eMontessori From The Heart School courses?
FAQ 3: As soon as you purchase, you will have full access. You will need to create a user name and password login. Then you will see the courses that you have purchased. No documents (pdfs) will be emailed or physically sent to you.
FAQ 4: Yes! This is a private learning community of like-minded parents, caregivers, and educators. On this platform, I encourage you to connect with the tribe [community tab] and share your Aha moments, your triumphs, or your challenges! You can open a discussion, ask a question, post a poll, or comment under any lesson or activity. You can follow other members, change your profile photo, and track your learning progress. Remember, learning is not SOLO; it is SOCIAL. Together, everyone learns more!
What if I am unhappy with eMontessori From The Heart School course?
FAQ 5: I would never want you to be unhappy! So I am open to feedback on how to improve the courses, so please send all your feedback to anya@montessorifromtheheart.com and I will gladly make changes as needed. PLEASE NOTE: due to the comprehensive digital (downloadable PDF's) within the content of these courses, REFUNDS are not available.
What is the benefit of repeating the courses with my child each year?
FAQ 6: It is essential to repeat courses again and again with children because little ones learn through repetition. Practice and repetition bring on progress. What a two-year-old brain is able to encode and absorb will be quite different from a 4-year-old's brain assimilation process. As children's brain matures, you can expand on a topic, delve deeper into a subject, or utilize extension works. As children learn and master new skills, they will be able to apply them in different ways while exploring the same topic. So, repetition will help children more thoroughly encode the information is new ways and allow for better retention.
together everyone learns more
What Members Have To Say
Let's ignite the love of learning!
Let's sustain a child's curiosity!
Let's leverage intrinsic motivation!
FAQ Frequently Asked Questions
How do thematic unit studies work?
FAQ 7: The beauty of thematic unit studies is that we can create a prepared environment for the child to embrace hands-on learning in a new and exciting way. Studies have shown that information presented in a novel way that ignites emotions is 50% more likely to be retained. And the best part is that unit studies can be simplified for younger children or expanded for older ones. So, you have ample flexibility within a themed study to spark questions and discussions or delve deeper into a topic of interest, should they desire so.
Is this a DIY-friendly course, or do I need to have Montessori materials?
FAQ 8: You do not need to have Montessori materials to enjoy these courses. I have designed many Montessori-inspired lessons around DIY materials and printables. However, you can incorporate authentic didactic Montessori materials into the lessons if you wish. You will have an option to make the DIYs or use the traditional Montessori material.
If the Montessori method encourages to "follow a child," how are thematic studies congruent with such a principle?
FAQ 9: Our role is to "prepare the environment" for a child to be inspired to learn. We are here to sustain their curiosity, ignite the love of learning and leverage their intrinsic motivation. "Following the child" does not imply a lack of order, schedule, or lesson plans. By exposing a child to different themes and studies, we widen their horizon and discover their aptitudes, natural inclinations, and interests. Diversified exposure is particularly beneficial for the younger ones (birth to 6 years), when children's brain is like a sponge, absorbing everything effortlessly and with great enthusiasm.


Disclaimer: My courses are for educational purposes only, and although I have done my best to ensure the safety of all activities, adult supervision is required at all times for any activity suggested by Montessori From The Heart. Also, please, use your judgment and common sense when implementing my lessons, since I can in no way be held liable for your personal use of our crafts, recipes, educational materials, or anything else that transpires should you follow any of my suggestions or tutorials. By enrolling in any of my courses, you agree to supervise any child participating in the activity and to use your best judgment to ensure the safety of all participants.
Created with